Our Fur Futures programme gives fashion students the opportunity to explore more into the fur industry and with that presenting themselves with new creative ideas for their designs.
One of our initiatives is our bursary scheme where we award designers extra financial support to Fur Future members to help them buy materials/ atend trade events.
Marta Horovitz is a Fur Futures member who has attended many programmes including the 2017 Fur Summer School in Kastoria. She applied for a bursary to help her complete her 3 fur garments for the 2018 REMIX Application process. Below Marta explains how the bursary helped her achieve creating the full complete looks.
---
Here you can see my three designs for REMIX Vogue Talents 2018 competition supported and sponsored by Vogue Italia and International Fur Federation. I was chosen in Poland on the national level as a designer who will be further applying to IFF.  Unfortunately, I did not get to the group of the ten finalists who are going to have a runway show in Milano in February 2018. Remix Vogue Talents is a very competitive and prestigious international contest.
All the three designs I designed and also sewn myself, which was kind of a difficult task! The long process of approximately 150 hours of sewing hasn't been rewarded but even though I think the designs are quite good, seems like not good enough for Vogue Italia, which is ok.
The main ombre patch worked design is in my ownership now as well as a bomber jacket, so for all stylists who would be willing to style it please contact me and I am happy to borrow it for the good editorial.
The sponsor of the photoshoot and my participation has been Polish Fur Federation. All the pelts were delivered by the company Nutrex, based in Grodzisk Wielkopolski, Poland. Nutrex sells best quality pelts of all kinds.
Besides as a member of a Fur Futures association, I have been backed financially by International Fur Federation, which supports young designers working with fur. The support they offered me partly covered the costs of the materials.
PHOTOSHOOT:
PHOTOGRAPHERS: LENA KRZEPINA, HUGO PINTO
MODEL: ULA KANIA
STYLIST: GOSHA KUSPER
MUA: ALEKSANDRA FRANCZAK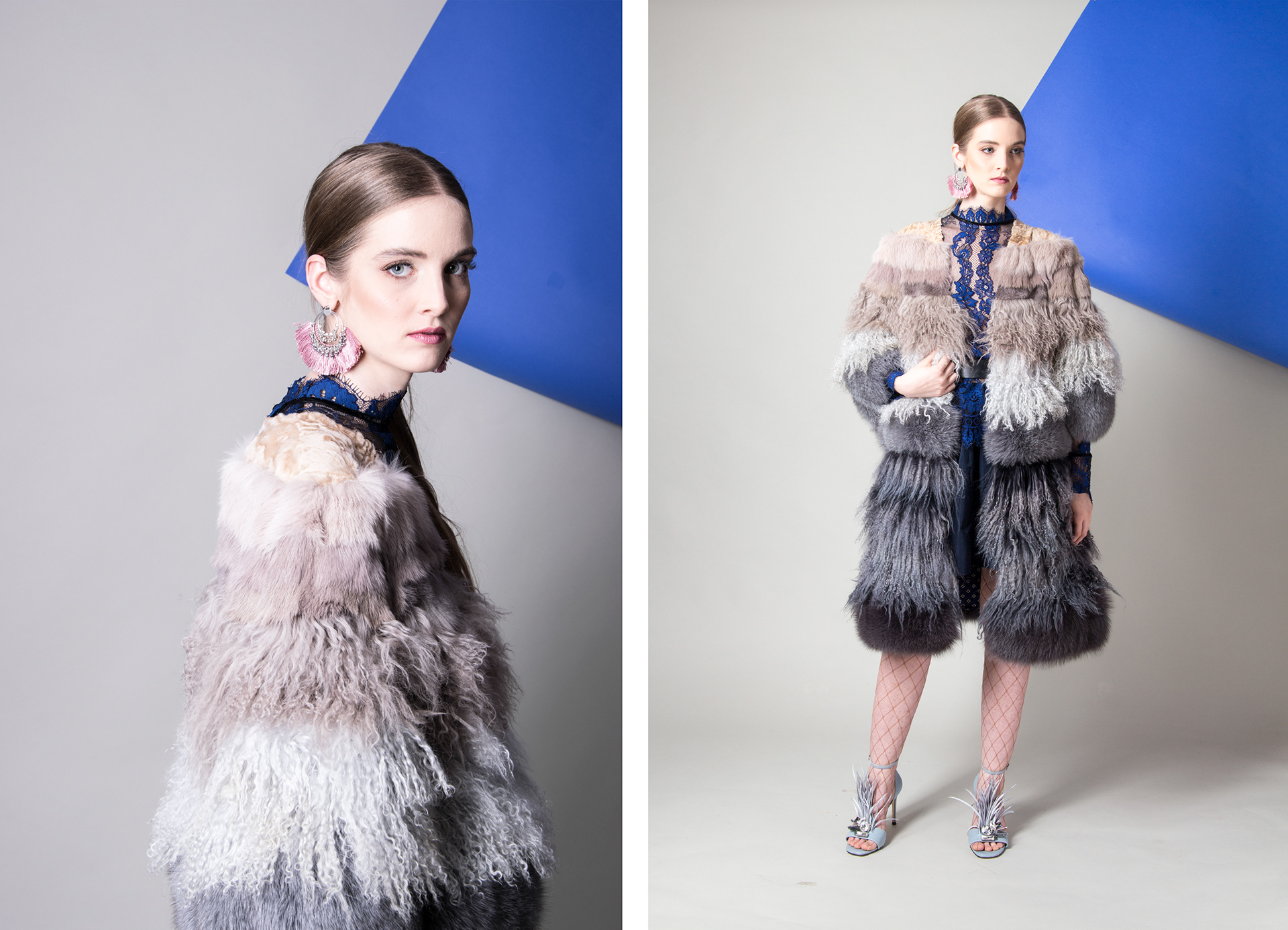 The coat is sewn out of 126 stripes of different furs in order to make an ombre impression from beige to dark blue. I cut the pattern into the set of stripes that make together a piece of panelled fur layers. From upper part the furs I used were: Swakara, Rabbit, Mink, Mongolian lamb, Fox, Mongolian lamb, Tibet lamb and Fox. Between the voluminous furs such as Mongolian lamb and fox, there are  the stripes of beige and blue suede.
The second design is a blue suede sleeveless trench coat with asymmetric rectangular pieces of furs. The asymmetric collar is from finn raccoon, and the dark blue pieces on the coat are made out of Mongolian lamb pelts. Seems like a simple design, though the most challenging was actually using the suede I bought which was very very thick and it was extremely difficult to sew. For a pre-a-porter version I would use the thin suede or wool.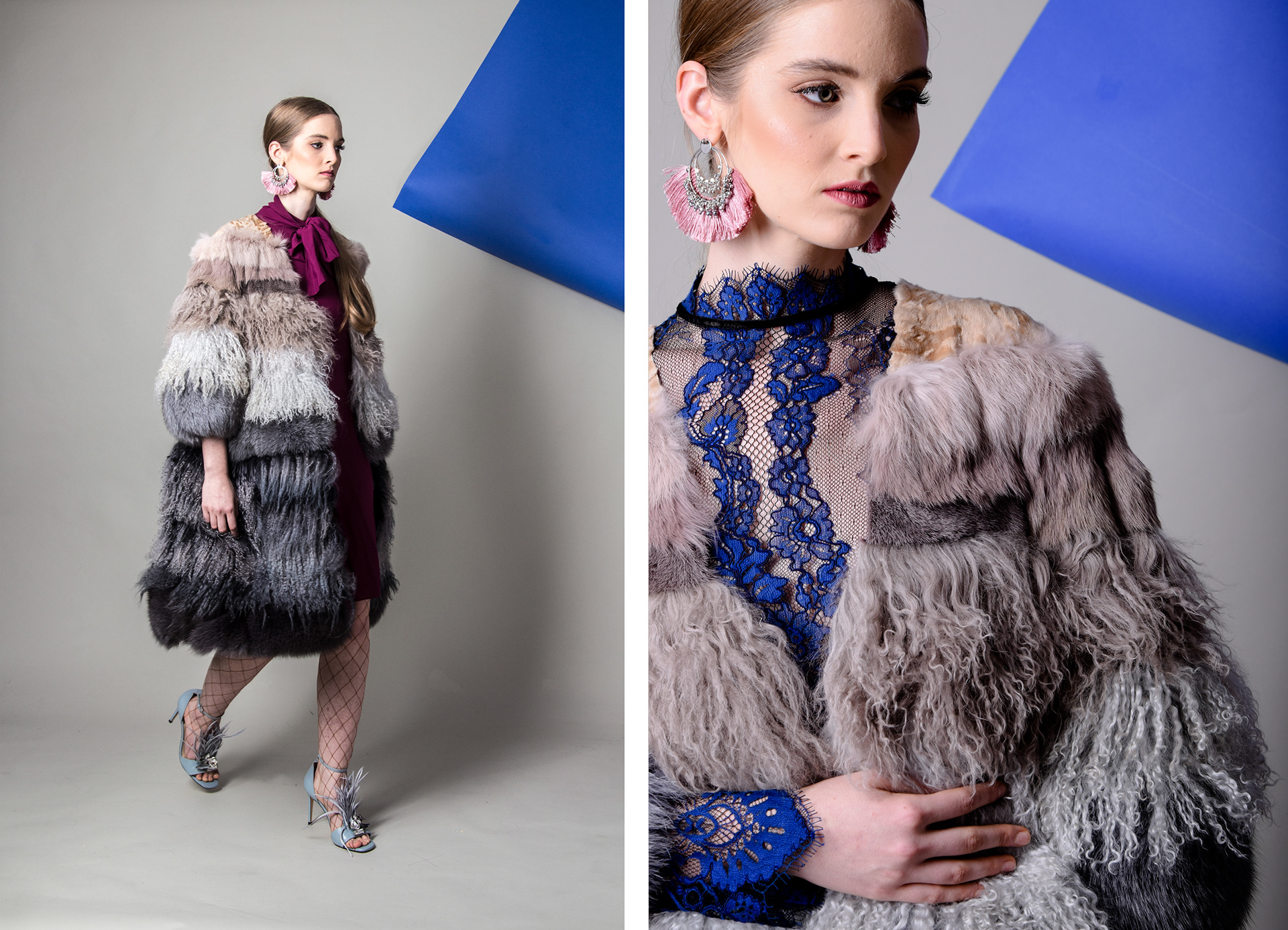 The third design is a bomber jacket made from rex rabbit (chinchilla rabbit) which is an absolutely addictive texture, so soft you want to stroke it all the time. The sleeves are made from normal rabbit in the back part, and front from rex rabbit as well. I used for this bomber jacket three different shades of greys, the ribbing is also of different colours (sleeves cuffs and upper and bottom parts.)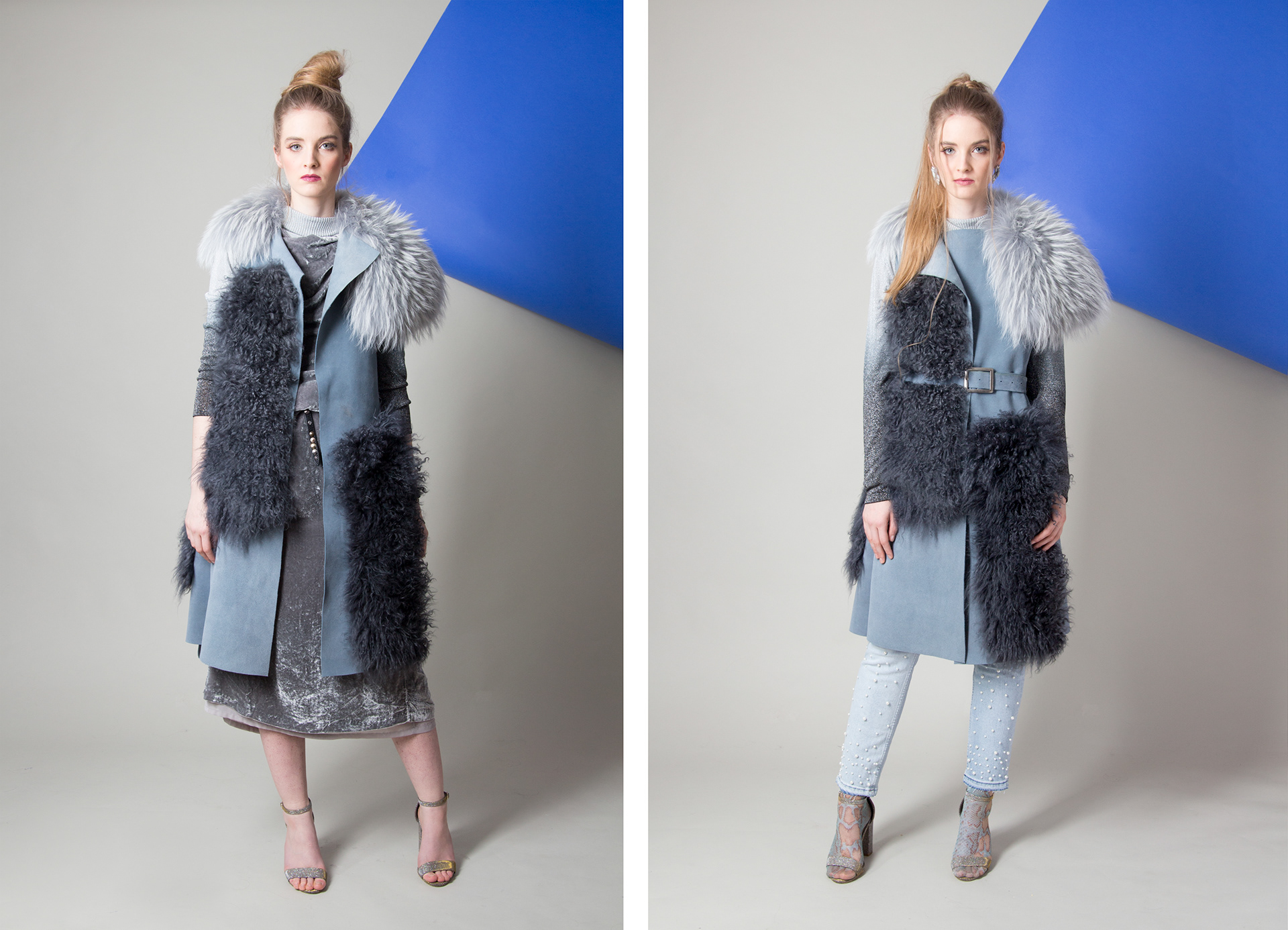 Statement of Inspiration: The main inspiration for the garments I´ve created for
Remix 2018 was our Polish coast of the Baltic sea, the sea that we share with
Scandinavian and East Baltic countries.
Inspired by the cold summer in the areas around it, the melancholy and wildness of the seaside, the lack of control over the nature and sea power, the colours of the sea water from the deep dark blue
in the far to the slowly lighter shades of blue closer to the coast, and where
blues are mixing with grey and beige colours of the sand.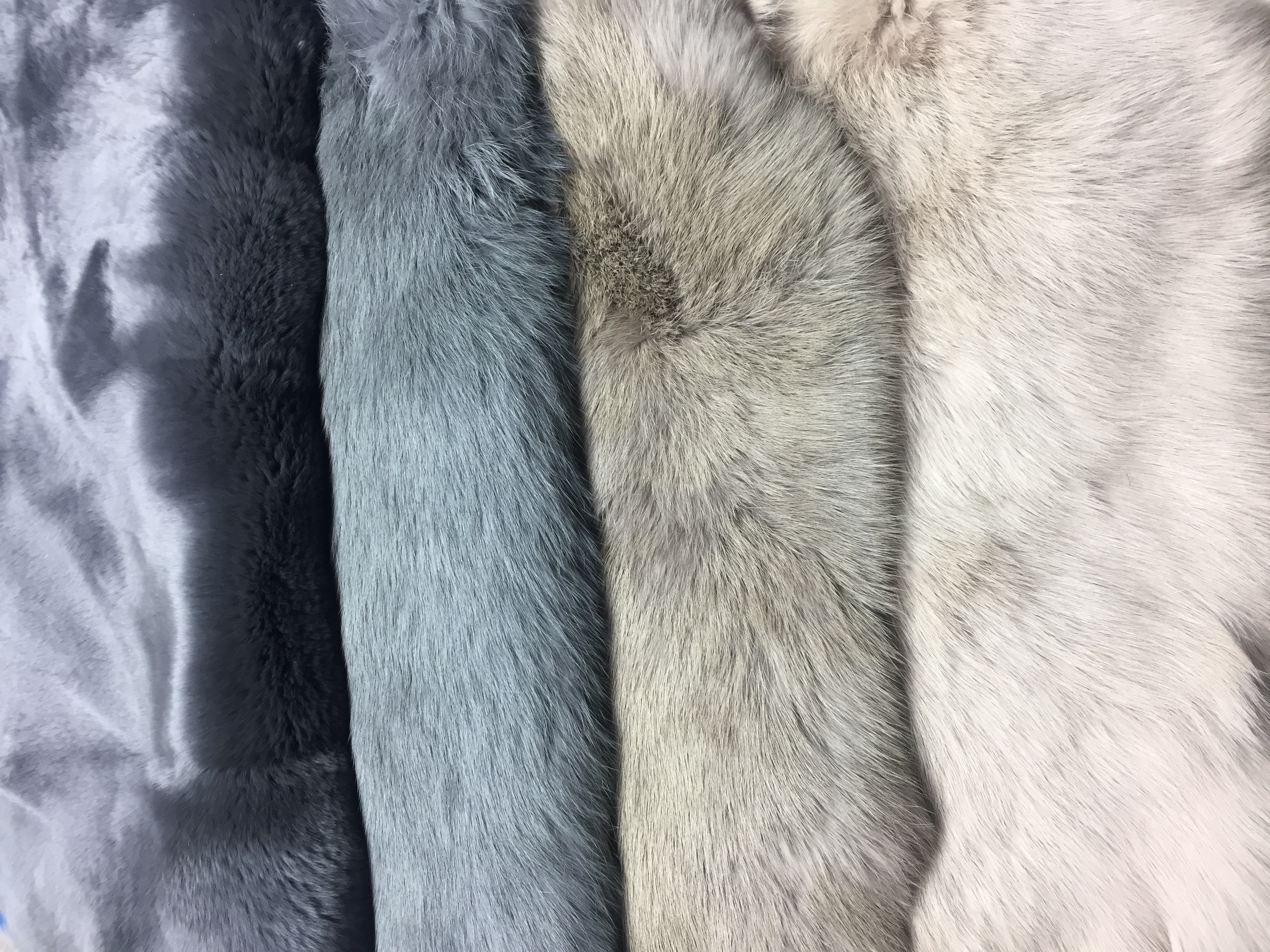 I created three pieces each from similar colours and fabrics though all of them
represents different styles. First what I believe could be Avant-garde – for
fashion conscious slightly eccentric women,
second design the suede vest with pieces of fur on it is classy and chic for more
minimal everyday outfits, third design is sporty and super casual bomber which
matches to everything. All of the pieces are my statement designs showing my style in fur design – patch working and panelling different fur textures.
To find out more on Marta's pieces, you can visit her profile https://www.wearefur.com/iff_person/marta-horovitz/ and also check the Fur Futures page to explore the opportunities available for students interested in learning more on fur craft and fashion – https://www.wearefur.com/skills-careers/fur-futures/